Using Quizzes To Generate More Leads
Posted October 1, 2019
Quizzes are one of the effective methods of growing your email list. However, not many people know this. Quizzes are currently what's working right now, as far as lead generation and list building go.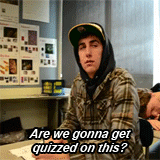 Quizzes are those assessment tests that get users to take 'committed' action towards a service or product. You can see them all over social media and on some home pages of websites. Below is why you should start using quizzes for your lead generation campaigns:
Build Your Email List: Quizzes are one of the best ways of getting prospects to subscribe to your email list. When prospects answer questions about a service/product, they're more inclined to opt-in, because most of the questions they answer will be on how the service/product can help them solve a particular problem.
Increase Social Reach: You may not know it, but people actually love quizzes. A lot of people desire a more personalized type of content, where they feel like you're speaking to them directly. Quizzes fit into this role perfectly. Include quizzes with your social media contents and you would be surprised at the amount of audience you can reach. Don't forget, people share contents they like, and if they share your quizzes (which is very likely), then you would reach more people.
List Segmentation: Quizzes help you learn more about your subscribers and how you can help them. Depending on the type of quiz you set up, you're likely to get varying answers from many people. You can't be sending a general email to everyone on your list, as what they what from you can differ.
Know More About Your Audience: With the help of quizzes, you're able to analyze your audience to know their pain points, what's interesting to them, and how you can better serve them.

Types of Quizzes
Personality quizzes: This is the most popular quiz type. You can see them all over Facebook. These types of quizzes focus on the individual and usually start with "what". For example, 'what made you decide to lose weight?'
Assessment quizzes: This type of quizzes seek to analyze how much a person knows about something. It usually comes in the form of multiple-choice quizzes, with a correct answer for each question. The number of correct answers the person gets determines the quiz result.
Score quizzes: Unlike an assessment quiz, the score quiz serves as a measurement tool, where there are really no wrong answers. The outcome of the quiz is determined by adding up the total outcomes. It takes a lot of thought to create an effective score quiz. For example, there will be questions like, 'what is your sales IQ?'
Steps To Creating A Quiz
You can create a quiz with any of the online quiz creation platforms like Interact Quiz Maker or Brandquiz. Things to note when choosing a quiz creating platform are features like Easy Promotion Options, Data Collection Analysis, and Lead Capture. As soon as you've chosen a platform, follow the below steps to create your quiz.
1. Brainstorming: This is even the first step before you sign up with any quiz creation platform. You've to decide what you intend to achieve with your quizzes. What are your plans? Why would anyone want to take the quiz? You should have the end goal in sight.
2. Choose a Template: Various quiz platforms have their own pre-made templates. You don't have to create a quiz from scratch. This saves you a lot of time. So, choose a template and customize it with your logo, colors, and images.
3. Create a Cover For Your Quiz: Your quiz covers are important because it's the first thing people see before they decide whether to interact with your page or not.
4. Set the Questions and Answers: Some quiz platforms come with pre-designed questions and answers, depending on the type of quiz. You can just modify the questions to suit your business purpose or create it from scratch. You should also use relevant images in your questions and answers, as this makes the quiz more interactive.
5. Results: Your quiz takers will be eagerly waiting for the results of their quiz. So, you'll need to use your experience and maybe current statistics to come up with intriguing results. You don't want them to feel disappointed after taking the time to complete the quiz, only to discover the results provided are subpar.
6. Integration: You're done with the quiz creation. So, now you've to integrate it with your email system. This is no different from linking your website landing page with your email. It all depends on the email provider you use.
You're done with the set-up, so it's time to share your quiz page to the public. You can add it to your website or share the link on any of the social media platforms. Just get the word out there to get more people to interact.
Remember, quizzes are one of the most effective ways of generating more leads for your business, so start making use of it today.

Filed under:

Blog
Tagged with:
Libia RM
Libia has several years of experience creating content for marketing, advertising, and PR.